How to change the location of the navigation
The location of the navigation menu is set by the template you have chosen. If it's not working for you, you may need to consider changing templates. You can do this easily by clicking Style > Change Template in the Sitebuilder and scrolling through our extensive collection in the Responsive, Free or Premium categories. Please note, if you use the Responsive templates, the navigation can either be above or below your banner. If you wish to explore this, please follow these steps:

1. Go to Style > Change Template.



2. Click Responsive and select a template. For this tutorial, we have used Super Flat.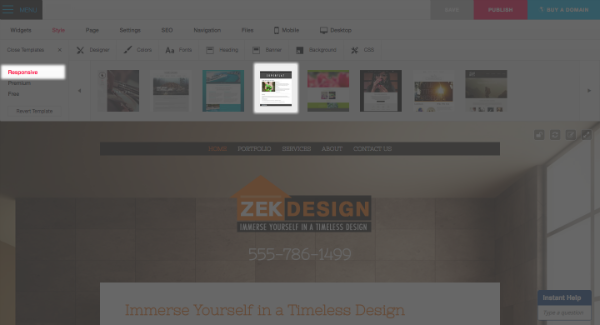 3. Now go to Style > Designer.

4. Scroll down until you see "Layout".

5. Click Navigation Position and select Top or Bottom.


6. Click Save on the bottom of the Style Designer console box.

Please note: If the Responsive template does not offer a Navigation Position option, you can click on Header Alignment and select Top or Bottom.

You also have the option to create your own navigation using either text or image links. Take a look at the following tutorials:
Alternatively, you can upgrade your package. Upgrading gives you access to the Site CSS, submenu features and unlimited Premium templates. This means you can make these changes, add second-level menus easily and you also have access to a wider range of templates!